AdagioX
was founded in July 2020 to promote cultural music education at an affordable price. This innovative music education company offers masterclasses and lecture programs geared towards supporting students and school music programs. More specifically, AdagioX's programs are designed to help directors develop their programs to improve students' skills.
This Minneapolis-based organization offers live and on-demand music resources that are personal, flexible, and scale to meet the needs of any music program.
Many classes and workshops related to the arts, especially orchestra music classes, were already unaffordable or inaccessible for many people. Unfortunately, the pandemic made them even more difficult to access since many people experienced financial hardship and instability.
Brock Drevlow, the founder of AdagioX, recognized this struggle in the music community. He and his team sprung into action to find a solution. They set out to create affordable and accessible masterclasses for everyone.
In addition to making music accessible to people on any budget, their program was designed to help create opportunities for students outside of the "big city" where most private instructors, top universities, and conservatory music programs are located.
Motivation: The Passion Behind AdagioX
Brock Drevlow, the founder of AdagioX, is a musician himself. Growing up, Brock had to drive five hours round trip to his music classes since he lived far from a major city. Although his family could make it work, he was always conscious that not everybody could afford this opportunity.
Coming from a small town, he recognized that the lack of funding in rural schools led to insufficient music programs. Students who wanted to pursue their musical passions were limited at no fault of their own. His two goals were to bring music education to disadvantaged students and offer accessible resources to underfunded schools, especially those impacted by COVID-19.
Aside from funding issues, COVID-19 impacted music programs in other ways. Many students were not able to play in orchestra or band since schools went remote and extracurriculars were shut down. A video-based music program could help students and teachers keep playing together even when they were forced apart due to stay-at-home restrictions.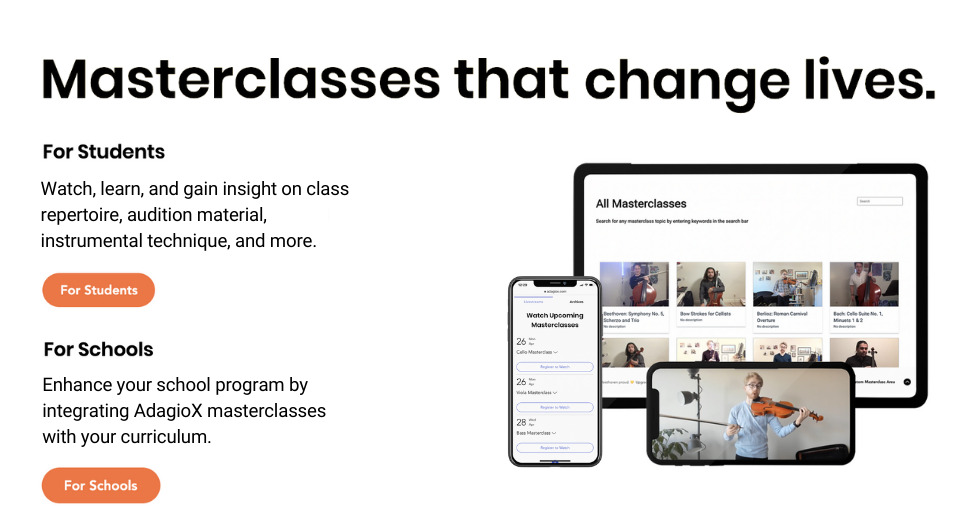 Goals: What Did AdagioX Want to Achieve?
In order to bring their vision to life, AdagioX needed an online video platform with a large amount of bandwidth. This was important for making their program accessible to the greatest number of students possible. He also wanted to provide a way for students to watch, learn, and gain insight on class repertoire, audition material, instrumental technique, and more.
The scalability was his number one need, and Dacast was the company that suited his necessity, making it possible to scale and grow along the way without experiencing drastic jumps in price between plans. Reliable OTT streaming was also a must.
As Brock compared solutions, he found that many companies charge per membership or subscription, but, luckily, this was not the case with Dacast.
Ultimately, they decided to go with Dacast. AdagioX has been using Dacast since they launched their business last summer. With the support of our platform, they've successfully grown the number of students and schools that they serve.
幸运飞行艇开奖历史官网网站-现场开奖结果记录
AdagioX uses mainly the on-demand video hosting functionality of Dacast. They usually live stream their classes then make them available on-demand after the stream has ended.
Since the AdagioX team is producing a lot of video content, Dacast's tools for organizations are also very important for their operations. Dacast features Folders and Expos tools have been particularly helpful. With Folders, they can create archives and organize their VOD content, and with Expos, they can quickly create immersive video galleries to share with their students.
Brock says, "We hear a lot that music education is dying, but it does not have to be like that, and if music education is presented in a different and more accessible way, this will help music education to thrive in the future, and actually Dacast is helping music education to thrive."
What's Next for AdagioX?
The AdagioX team wants to make music education accessible and affordable for as many students as possible. Everything they do is designed to help music education thrive.
As summer approaches and a new school session starts, the AdagioX team hopes to build partnerships with hundreds of more schools and reach hundreds of thousands of students.
"It's about our next generation of musicians, and we want to help them access music education and see music education alive for a long time," says AdagioX's founder.
The AdagioX team plans to forge new partnerships to propose even more content to even more students. Their top goal is to provide a robust music education platform that offers knowledge-driven, opportunities-based masterclasses that students and school programs can afford.
Custom masterclasses that are designed for individual students or programs are also on the horizon.
In order to reach these goals, they plan to expand their team to support the quick growth of their company and make a more significant impact on the world of music.
The AdagioX team is full of passion and talent. We're confident that they will continue to create positive change to keep the fine arts alive, and Dacast is eager to support them along the way.
If you're interested in trying Dacast for yourself, we invite you to take advantage of our FREE 14-Day Trial . Test out all the features for yourself free of charge. No credit card required.